Mason's Mitre Joints for Kitchen Worktops: A Worktop Express® Nutshell Guide
A mason's mitre joint is the most commonly-used method for joining two laminate kitchen worktops. This joint is also known as a butt and scribe joint or a hockey stick joint (the latter term springing from the fact that the joint features a curved cut at one end, and as such resembles the shape of a hockey stick). Mitre joints provide a secure join that wastes less material when compared to a 45° mitre joint, and allows for an attractive, continuous appearance.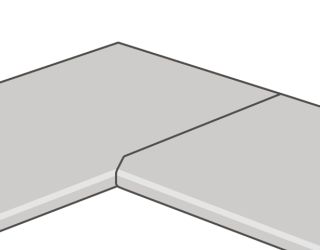 Ordering Worktops with a Mason's Mitre Joint
If you are ordering laminate worktops from Worktop Express, you will be pleased to hear that we offer a very competitively-priced worktop cutting service. As well as cutting your worktop to size, cutting sink or hob apertures, or applying edging strips, we are also able to cut worktops with a mason's mitre joint using our precision CNC machines.e.
Once cut, the edge will be hand-finished by our skilled fabrication team to ensure that the join between the worktops is seamless and smooth. Next, we would cut worktop connector bolt recesses into the underside of the worktop, allowing the worktops to be connected easily once on site. Our mason's mitre joint service includes the worktop connector bolts. To find out more about the services we offer, visit our laminate worktop cutting services page.
Cutting a Mason's Mitre Joint Using a Worktop Jig
If you would prefer to cut a mason's mitre joint yourself, this can be done using one of our worktop router jigs and the appropriate tools. We sell two different types of jig: an MDF range that is suitable for occasional DIY use, and a solid laminate jig range that is better suited to trade professionals and for regular use. Both types of jigs are available in sizes to suit worktops up to 700mm or 900mm wide, and can also be used to rout worktop connector bolt recesses.
To use either of our worktop jigs, you will require a suitably powerful router, router cutter and G clamps to securely attach the jig to the worktop. Once you have cut the worktop, you will need to finish the join by hand to ensure it is perfectly smooth. As a final measure, apply worktop sealant to the join to create a water-resistant seal.
Learn more about installing worktops using a jig by reading our dedicated guide:
Mitre Joints on Timber Worktops
We do not recommend using a mason's mitre joint to join two solid wood worktops, as it does not allow the natural timber enough space to expand and contract with changes in the local climate. Instead, we would recommend joining the worktops at a 90° angle using a butt joint and worktop connector bolts. This option – and many other customisations – can be ordered via our wood worktop cutting service.